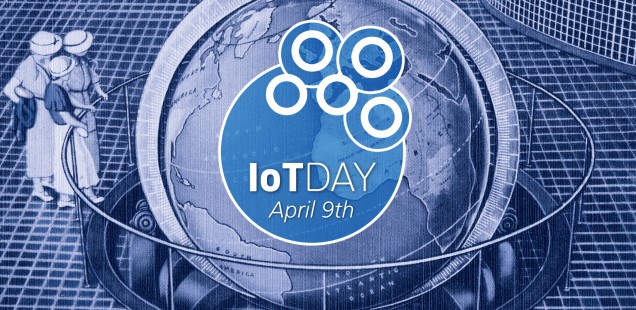 Global Internet of Things Day 9th April
STOCKHOLM
Detail schedule ready:
Detailed schedule in different timezones is here
Venue:
We will be at Brinellvägen 26B on KTH campus
Speakers list defined:
Speaker list is avialable here
Remote participation through webinar
For remote participants join Online webinar
To participate onsite
Register to come to the event at KTH
Hardware and challenges
Be sure to grab some hardware from the raspberry store to hack your own stuff you need the IoT sensor kit and a raspberry of course you are free to bring any hardware you like.
Background
On the 9th of April the internet council  www.theinternetofthings.eu  has for the fourth year proclaimed the Word IoT day. The event is coordinated through iotday.org and live connections over iotlive.org/
Sust, Sics and our project Intelligent Energy Services will host an event at KTH, Royal Institute of Technology in conjuction with the Global Internet of Things day.
Come and meet others, hack on your things and listen to some good talks or take part in short introduction to the Internet of Things topic. We will connect live to other IoT events around the world
How: Register at simplesignup This is a free event but to be able to prepare food and give-aways etc. you need to register
Where:  KTH, Royal Institute of Technology  venue to be defined
When: 9 th of april 13.00 until midnight
Who: Anyone interested in Internet of Things, Big Data, privacy,security, things, doing good and changing the world.
What: We will have a lab area with tables, 230V, internet, so bring your ideas, already started projects, home made devices and meet others and connect.
We will  provide some development kits and r-pi.se will also sell hardware on site.
Don't want to build own hardware? NO problem, there will be plenty of online devices to interact with even in other parts of the world. So bring your laptop and you will be able to connect and read sensors and control devices around the world.
You will be able to reach other IoT events, connect to their devices and interact over language barriers and technology boundaries.
Pre noon setting up of the event, join and take a chat.
13.00 launch speak with sustainable innovation Joachim Lindborg
Seminars, workshops, try it out demos and hackaton
17 ish food arrives and bar opens
Continued hackaton and schedules on the live stream at http://iotlive.org/
Hooking up to events in other time zones.
Interact with devices around the world
Event hosts, backers and participation from
Internet of Things:
Internet of Things  often called (IoT) is today a large grass root movement where people create and make new devices and services like never before. they connect them to to internet to control or measure. There is a huge amount of sports related Things that measure your sports activities in calories,meter and compare to others. SUST is running a large vinnova project to create an interoperable world of these devices  where innovative energy efficiency services can flourish http://iea.sust.se
XMPP IoT interop:
In the world of IoT there exists many many initiatives and protocols. One important is the protocol called XMPP which is the base for CHAT applications the well known WhatsAPP just bought by facebook uses a modified XMPP.  The initiative from XMPP.org regarding IoT is to create a world of devices that can be interoperable and communicate over the borders of the company domains. We will have remote sites with devices that you can interact with remotely and control and read.
Raspberry Pi:
Raspeberry pi is a small develoopment plattform created to help in learning the in and outs of computers around the world there is many many project that uses the raspberry pi as a first start during development. We will have the company r-pi.se which is  one stop shop for early adopters of the technology more on raspberry